ORDER ~ Friday 5am - Monday 8pm | PICK-UP ~ Wednesday 4-5:30pm in Chesterton on Dickinson Rd.
Elderberry Syrup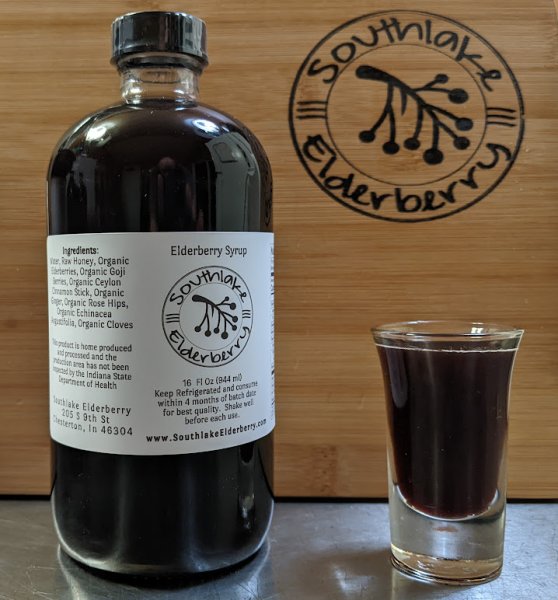 1 8 oz bottle | 1 8 oz = $15.00 + $0.00 Assembly
1 16 oz bottle | 1 16 oz = $25.00 + $0.00 Assembly
Matt's original recipe for a delicious syrup. Made in small batches using certified organic ingredients and local raw honey.

Ingredients: Purified drinking water from Coastal Valley, Raw local honey, Organic Elderberries, Organic Goji Berries, Organic Ginger, Organic Ceylon Cinnamon, Organic Rose Hips, Organic Echinacea Angustifolia, Organic Cloves

One taste and you will agree that this is the best tasting syrup out there... plus a better price and more fresh than any you can buy in the store! The raw honey is the only added sweetener and it remains RAW in my syrup. It is added after cooking has been completed.

Your bottle of Elderberry Syrup will be made fresh to order (no more than 48 hours old) for pickup at the Coffee Creek Farmer's Market. For best quality, keep your syrup refrigerated when you get home. There is a small, pin hole in the lid to allow for direct oxygen per Indiana Health Department standards. While this shouldn't allow for much, if any, leakage it is suggested to keep your bottle right side up.
Website and Online Farm Store Powered By
Eat From Farms